We believe Buildsafe is more than just scaffolding – we want to create a legacy, and we want to make a difference. Not only are our clients' health and safety our top priority, but so is the health, safety and wellbeing of our staff and what Buildsafe stands for as a company.
As a company, we pride ourselves on being more than just a business, but as one that gives back to those in need. We proudly partake in charities every year in order to make a difference and show our gratitude for the things we are blessed with every day.
Why Choose Buildsafe –
Staff Care Programs
At Buildsafe, we understand the importance of mental wellbeing within the workplace and how the construction industry poses a higher threat to mental health than most others.
We recognise that there is a stigma around talking about all things mental health, and we are doing what we can and building the steps to remove this and encourage the conversation to start.
Buildsafe Care exists to serve the staff and their families by offering support, intervention and guidance for anyone in crisis, doing it tough or just experiencing some of life's hard knocks.
Across all of our branches, we have a dedicated team providing 24/7 care and advice to our staff and their immediate family.
We aim to provide care to overcome difficult circumstances by working alongside them to identify pathways that help equip them to move forward.
We all face challenges in life, and knowing that you have the options and these pathways need assistance and support, which could change your life or the person next to you.
Buildsafe proudly supports a group called Restoration of Hope Ministries Interactions (ROHMI). Our partnership with the foundation focuses specifically on helping street children in Kenya and Uganda. Unfortunately, due to reasons including physical abuse, psychological trauma, abandonment, and poverty, which sees many boys and girls leave home to try and find safety in towns. However, life on the streets is often filled with its own dangers and abuse, and it is essential to have facilities equipped to improve the lives of these children.
Droplets in a Stream work alongside our partners in Uganda and Kenya to provide, equip, resource and train the staff to be better able to serve and protect these vulnerable children. Buildsafe, through our support of Droplets in a Stream, makes all of this possible. Together we are all playing our respective roles and making a significant difference.
The Home (centre) in Bungoma, Kenya, is specifically for boys who have fled to the streets. The Home cares for 30 boys who now live here as part of a family, which sees them attend school daily to ensure they have all the tools for a bright future. The Home also provides meals for a further 250 children still living on the streets, some with additional means to source an income, in turn seeing the ability for them to rent rooms taking them off the streets.
The Rehabilitation Centre, also known as St. Paul's, is located in Kyampisi, Uganda. This facility houses both girls and boys who have been victims of abuse, trafficking, or any other terrifying situations. The Centre provides medication and treatment, which has played a vital role in delivering hygiene opportunities and care during the COVID-19 pandemic.
We believe Buildsafe is about more than just scaffolding – we want to create a legacy, and we want to make a difference.
Internally for our Buildsafe men and women, we understand that their journey in life and our journey as a company are connected.
We'd love for Buildsafe to positively impact their lives, personally and professionally, and we offer various development programs to help the team succeed. Our Rise Up program aims to better equip our team for 'doing life'.
Men of Business Academy

– MOB
Men of Business are a dedicated school designed to personally develop young men along the journey to manhood through role modelling and mentoring.
Based on the Gold Coast, MOB Academy was created in the hope of improving the lives of as many boys as possible. We work very closely with the director and founder, Marco Renai, who built the foundations of MOB ten years ago whilst working with boys and their fitness; he quickly realised that they needed much more than that.
Buildsafe and the MOB Academy have been consistently working together to dedicate time and resources to help the boys improve their lives; through scaffold building workshops and skills testing, we aim to equip the boys with what they need to enter the scaffolding and construction industry if they choose to.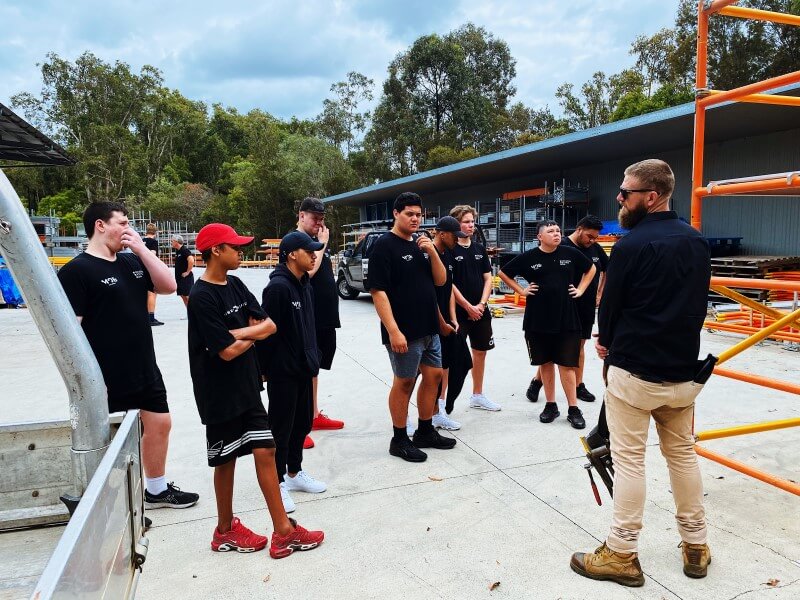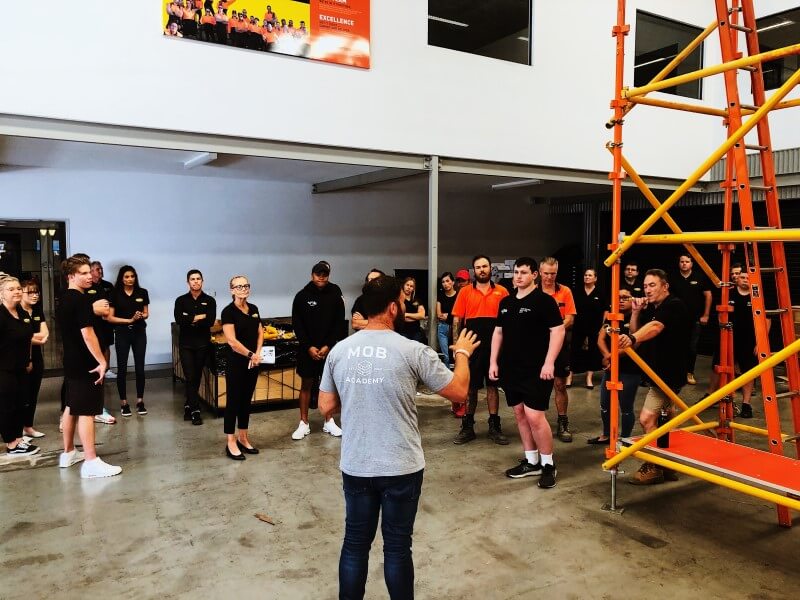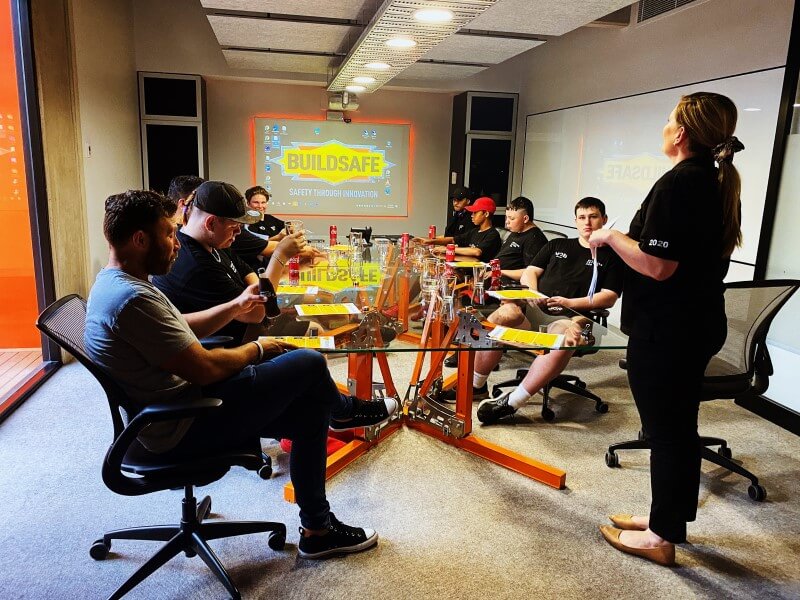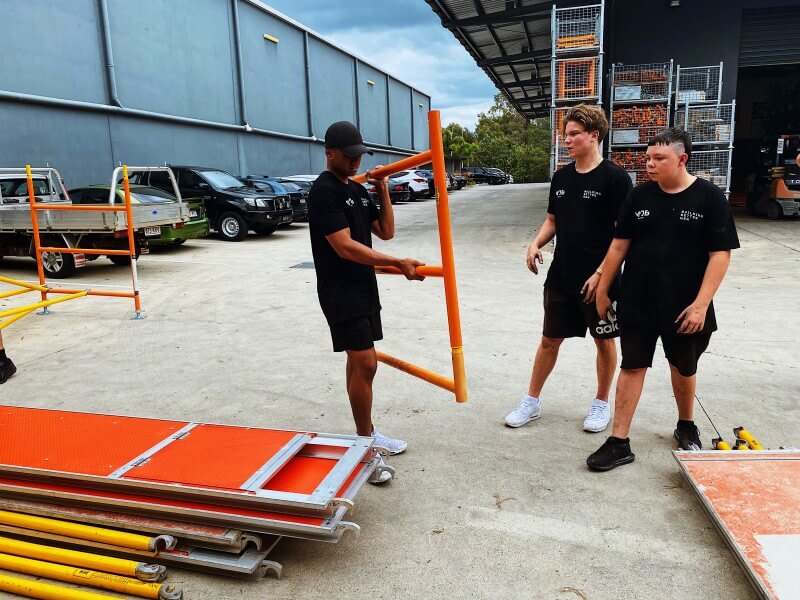 Products
Buildsafe's extensive range of products are specifically designed for the building industry and engineered to comply with Australian Standards.

Customer Experience
At Buildsafe an experienced Account Manager will work with you directly to tailor a complete solution to your needs. From our responsive operations team through to our competent onsite installers, we will work with you at all stages of your build.

Orange Box
Understanding the ever increasing legislative demands placed on the industry, Buildsafe is committed to providing easily implemented client safety solutions known as 'The Orange Box'.
Buildsafe works very closely with those in the construction industry to provide safety solutions to everyone from owner builders to major site developers, we have all your safety needs covered.
Brighton Homes regard safety as a high importance for all our valued Sub Contractors and fellow Suppliers in the Industry, therefore ensure we align with professional partners, allowing them to do their job safely and in timely manner. Buildsafe continually develop and improve products to not only meet, but also raise the industry standard in Safety. Buildsafe staff are focused on providing excellence service and are always willing to assist us to achieve the best safety system to suit our needs with the wide range of products available.
BRETT
Brighton Homes
At Carlisle homes, we can really rely on Buildsafe to provide an on time, high quality, documented and safe fall system. Having a relationship that extends for years, we know that our trades always feel safe and stable on Buildsafe products.

CAMERON
Carlisle Homes